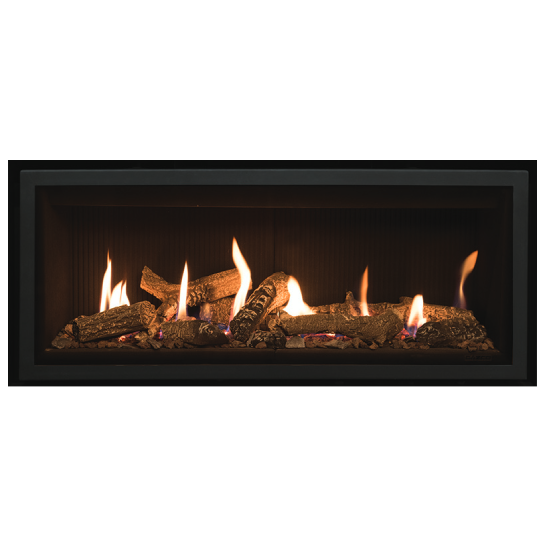 Breathtaking! There really is no better way to describe Gazco's stunning Studio gas fires. With a wealth of design options complemented by a choice of sizes, linings and fuel bed effects, these contemporary gas fires will add instant style and presence to any modern interior. The outstanding Studio gas fire range is available in up to four different sizes, with three landscape sizes and a portrait option alongside the latest Slimline Cavity Wall and Double Sided Duplex gas fire options. These beautifully designed Studio fires are the perfect blend of versatility and style.
The Gazco Studio Profil gas fire features timeless styling that fits in perfectly with virtually all interiors. Furthermore, the Studio Profil gas fire offers you stunning frame colour choices. The Studio Profil Glass Fronted model offers a range of linings, and the choice of either Log-effect, Pebble and Stones or the highly realistic weathered Driftwood-effect fuel bed. Open Fronted models come with a contemporary White Stones fuel bed, which can be upgraded to red, black or clear Glass Beads for those that want something a little different..
KEY FACTS
*Lining choices vary depending on model.
STUDIO PROFIL INFORMATION
| Fire Choices | Air Vent not normally required | Efficiency | Heat Output† | CF | BF | Dimensions∆ wxhxd (mm) | Flue Diameter | Energy Efficiency Class |
| --- | --- | --- | --- | --- | --- | --- | --- | --- |
| | | | | | | | | |
| Studio 1 – Glass Fronted Conventional Flue | | 72% | Up to 4.6kW | | | 846 x 520 x 13 | Top 127mm (5") | E |
| Studio 1 – Glass Fronted Balanced Flue | | 92% | Up to 5.3kW | | | 836 x 510 x 13 | Top 150mm (6") | A |
| | | | | | | | | |
| Studio 2 – Glass Fronted Conventional Flue | | 81% | 6.2kW | | | 1046 x 520 x 13 | Top 127mm (5") | C |
| Studio 2 – Glass Fronted Balanced Flue | | 92% | Up tp 7.0kW | | | 1036 x 510 x 13 | Top 150mm (6") | A |
| | | | | | | | | |
| Studio 3 – Glass Fronted Balanced Flue | | 92% | Up to 8.9kW | | | 1426 x 510 x 13 | Top 150mm (6") | A |