Every room needs a focal point, and what better way to achieve this than with a beautiful fireplace?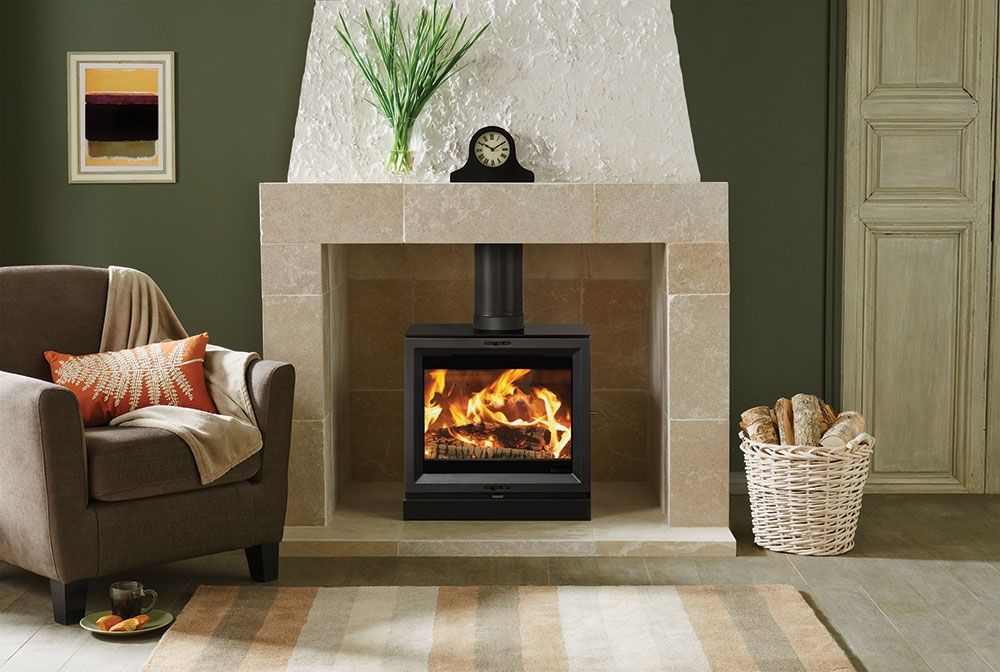 Wood burning stoves are great interior design choices, as they're brimming with character and flare, and add a touch of elegance and luxury to any space. No matter where one of these stoves will be placed, be it the living room, the bedroom, or the kitchen, it can immediately transform the room and elevate its décor to another level.
If you wish to learn more about these types of fires, check out The Ultimate Guide to Wood Burning Stoves! Meanwhile, in this article, you can find our tips for using a wood burning stove to transform a space's interior design.
How to Decorate a Room with a Wood Burning Stove
Be it a contemporary décor or a more traditional and rustic one, wood burning stoves can complement any space – and blend in seamlessly with it. This means you can use these fires anywhere, from cosy little cottages to modern flats.
So, using a stove to decorate a room is easier than you may think. As they come with different options, such as glass doors and finishes that add a splash of colour, you can choose the ones that will best fit into the aesthetic you're looking for. You can also arrange the furniture around the stove to create a focal point or simply place it in a nook for a cosy feel.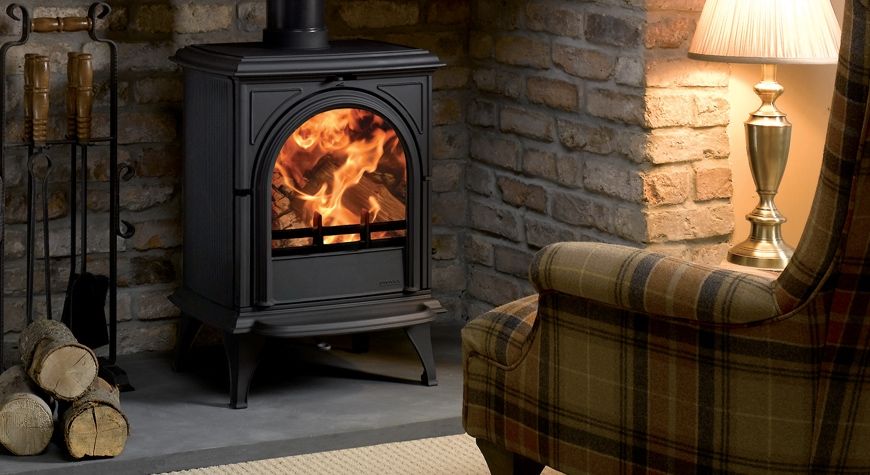 These stoves can help you to enhance a minimalist style, a Scandinavian style bursting with hygge, and even complement the décor of a period home. Wood burning stoves also make fantastic dividers in an open plan home, as they heat the space while creating a beautiful 'wall'.
There are no limits to how a wood burning stove can decorate the room!
Can You Put a Wood Burning Stove in a Conservatory?
Conservatories can be wonderful additions to a home, as they offer extra space for relaxing and entertaining. However, they are often colder than the home itself and, because of that, not as utilised as they could be.
Fitting a radiator against glass walls or carrying around an oil heater, for example, can be unsightly and a hassle.
Wood burning stoves, on the other hand, are fantastic for conservatories! They take care of all the issues above. They heat up the space, so your client can chase away the chill and make use of their conservatory even during winter. Because they're aesthetically pleasing, wood burning stoves can transform the extension into a space that is ideal for a family gathering or a movie night with friends, as they can help you to create a cosy and inviting space.
Before purchasing your wood burning stove, however, there are a few considerations that you should keep in mind. These can include:
The size of the conservatory, as that may determine the kW output you need. You can arrive at a fairly accurate figure for this by calculating the volume of the room (length, width and height) and then multiplying it by 0.07. The resulting number is a close approximation to the nominal heat output in kWs for the right stove for your conservatory.
Whether or not you have space to install the stove, as it's important to leave some space around it to avoid anything being scorched.
Where you want to install it – and, therefore, where the flue will go.
What Size of Wood Burning Stove Should I Buy?
Wood burning stoves don't take up much space, which means it's relatively easy to find one that fits the room you're designing. If you're asking yourself 'what size wood burning stove do I need?', you can relax; these stoves come in different sizes, so you can easily choose the one that will suit your project the best. For example, the Firefox 5 can differ in terms of width, height and depth!
You can use the ceiling height to choose the right stove size. Because you don't need a lot of space to install a wood burning stove, you can also fill a corner with one and enjoy the way it elevates the design, for instance.
If you're looking to create a focal point, then bigger is better, so opt for a larger stove that will instantly be the centre of attention. If the space is small or the client prefers to highlight functionality instead, then a smaller stove can be a great solution.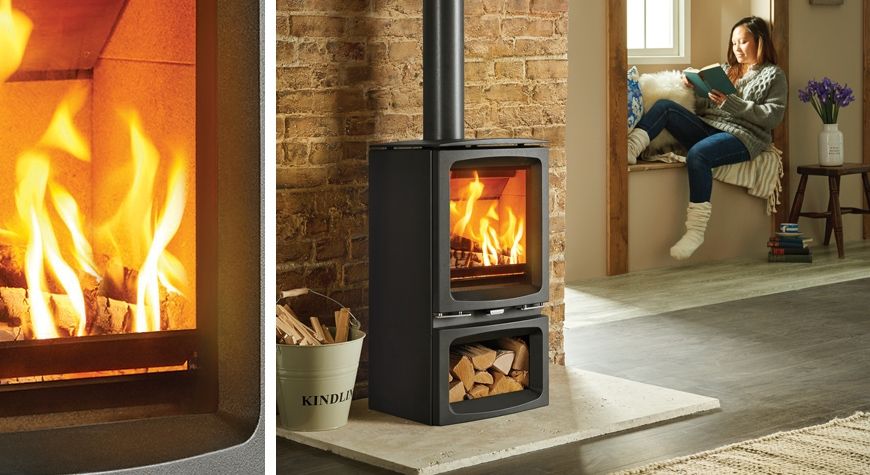 How to Install a Wood Burning Stove in a Garage
If your client is looking to refurbish their garage into a liveable space, a wood burning stove is a great addition. After all, garages need heat, but that doesn't mean that you should compromise on interior design! By adding one of these stoves, you get both functionality and beauty.
They're the perfect complement to a reading nook, a games area and a little relaxation space with a TV and a sofa. And even if the garage still needs to be able to accommodate a car or workstation, a stove will keep everyone warm while looking great.
Of course, there are some practicalities to consider before fitting a wood burning stove in your garage. For example, you may want to think about:
Placing the stove away from other objects
How good the insulation is; if your garage is very well-insulated, then you probably only need a small stove to warm it
How to vent the stove (this means knowing where the flue is going to go, as it could be installed through the roof or through the wall, for instance)
How to Decorate Around a Wood Burning Stove
Equally important to having the right wood burning stove is how to decorate around it. After all, a good interior design is the perfect combination of several different elements!
A good backdrop can enhance the already great aesthetics of these stoves, so think about the wall – will it be tiled? Painted? Choose a backdrop that complements the stove and ties it together with the overall décor.
You may not have a mantel with a wood burning stove, but you can still hang paintings or bold pop art items near it. And, as we've discussed before, stoves and fireplaces make great focal points, so arrange the furniture in a way that allows your clients to enjoy the visual benefits of the stove, as well as its warmth.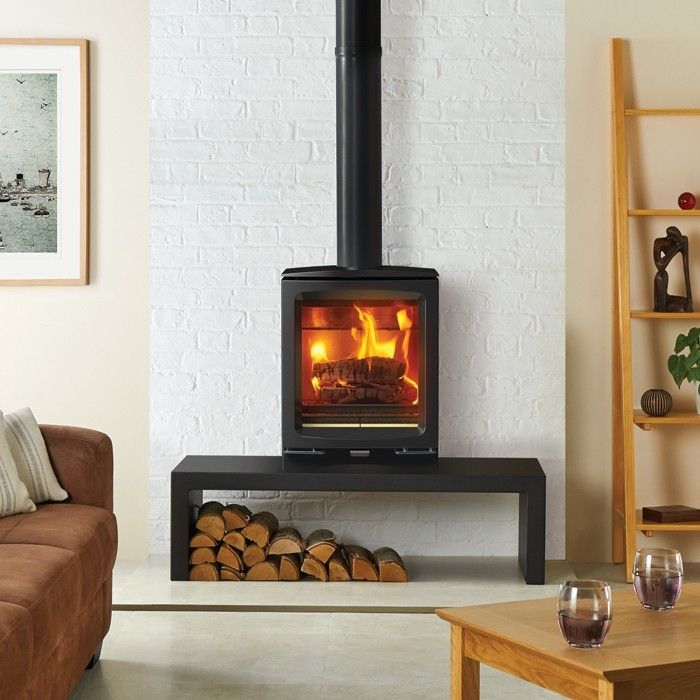 Wood burning stoves are great additions to any home, as they not only complement a décor, they can also elevate it to new heights. Don't hesitate to contact us to learn more about our wood burning stoves and how they can help you to transform the interior design of any space! We're always on hand to answer your questions.
Get in Touch with Real Flame for more Advice and Information