Whether you're looking for showstopping brilliance or functional designs, we've curated some of the best designs on the internet to inspire your order for a bespoke fireplace.
Fireplace Design
We could hardly write a blog on fireplace design without starting with the fires themselves. As the centerpiece of your room, you will want your fire to be perfect in every way. This section will show you how some homes have chosen amazing fires to add value to their homes.
1) Circular Fashion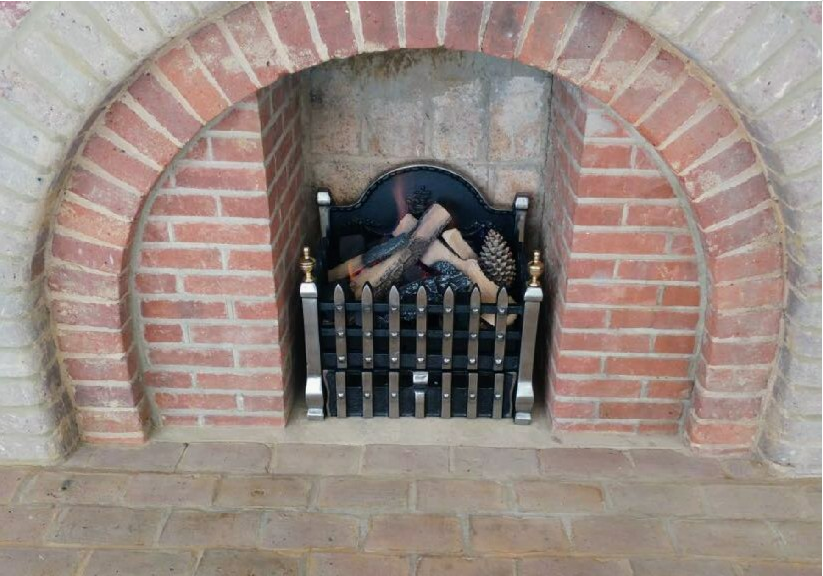 Circular themes are very much in fashion currently; circular mirrors, windows, and now the fireplace. We designed and installed this beautiful fireplace for one of our clients, and we are sure that the red brick looks even more stunning against the flames on a brisk evening.
2) Minimalist Entertainment
This fire mimics the television above it, beautifully regressed into the wall, taking up a similar amount of space and making the most of a deep black paint to tie it in with the blank television set above it. This is also a very functional design because when sat in front of the television, you will also be in the perfect space to make the most of the fire's heat. This fire was also installed by us.
3) Traditional with a Spin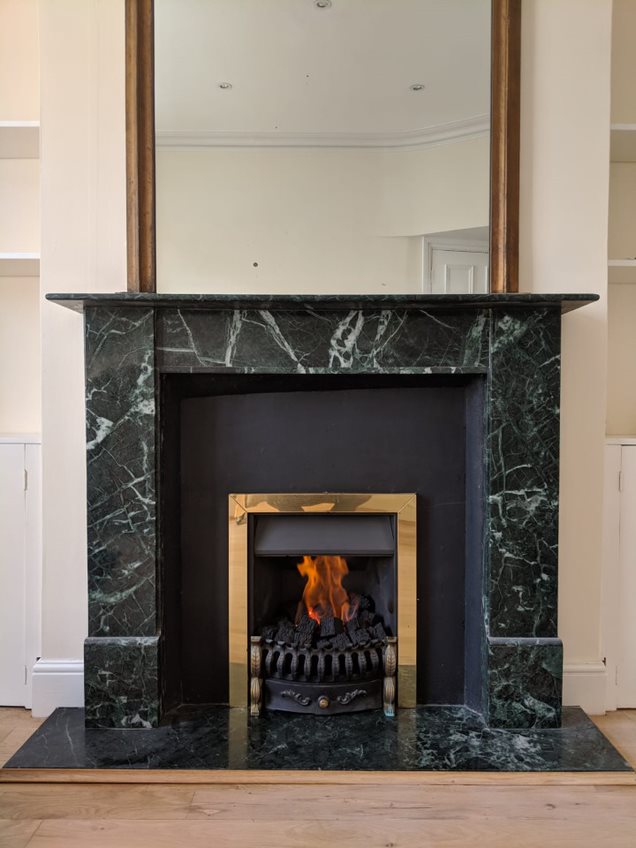 This beautifully traditional fireplace is made modern by the artful use of materials to bring this fire into its own space. The gorgeous deep green perfectly offsets the golden accents of the fire and its red flames. This is yet another fire installed by us.
4) Heavy Industrial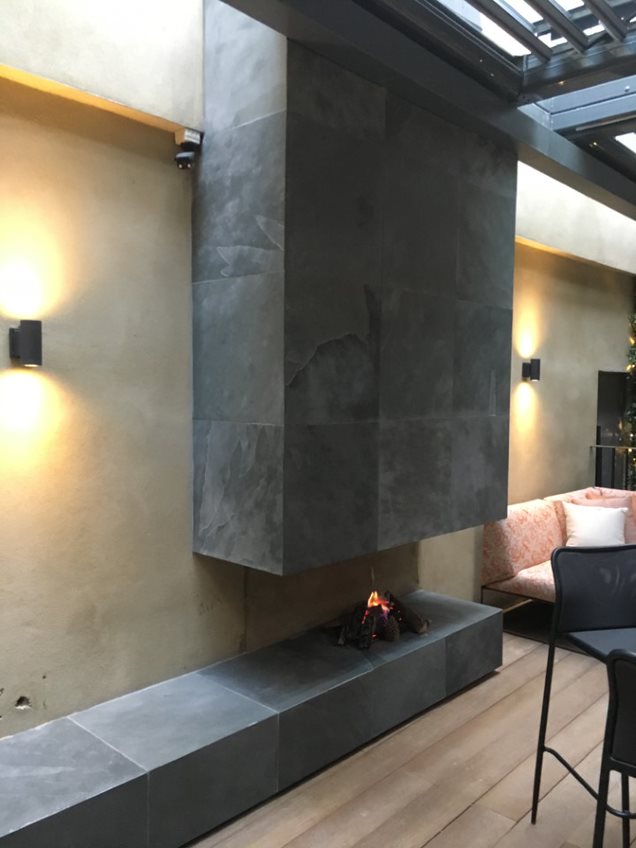 This fireplace has a weighty feel to it that really pulls an audience towards its heat. The scale of the flue above it subverts expectations of traditionally thin cylindrical designs, bringing a fresh edge to design that is well suited in restaurants and businesses but also works well in the home.
5) Space Saving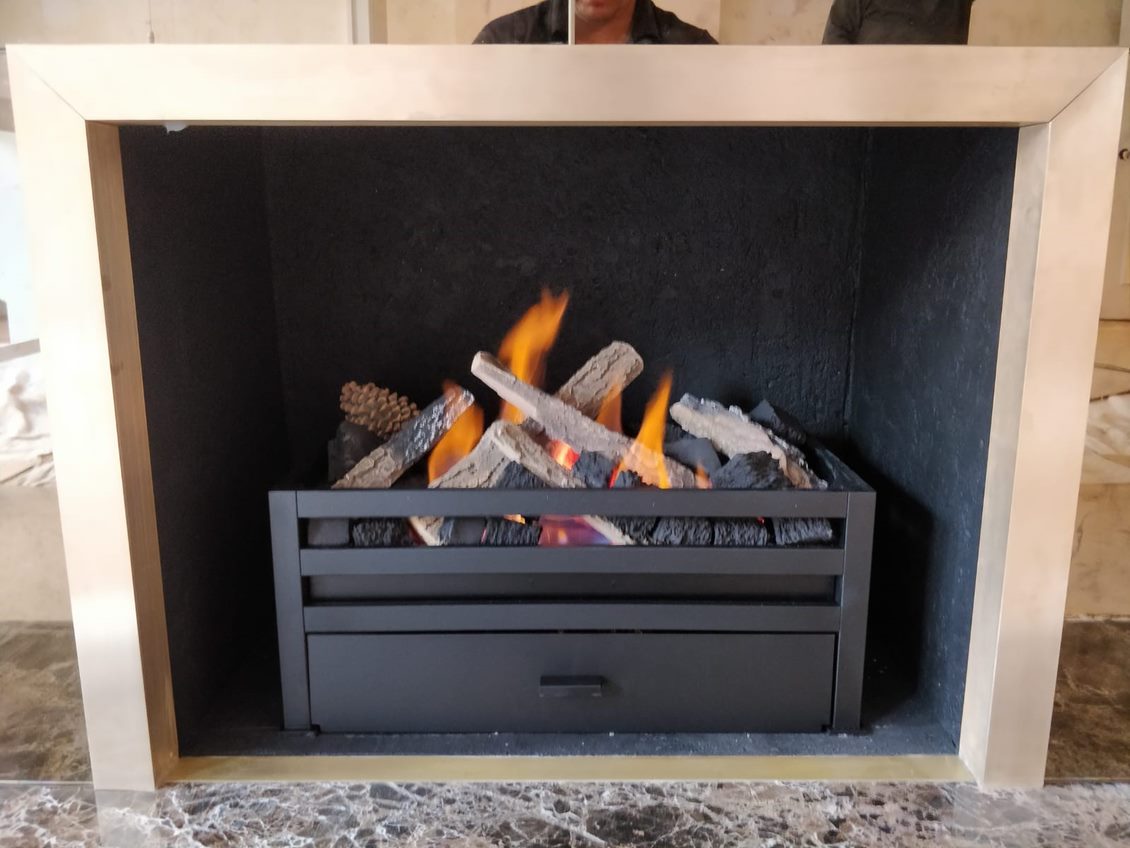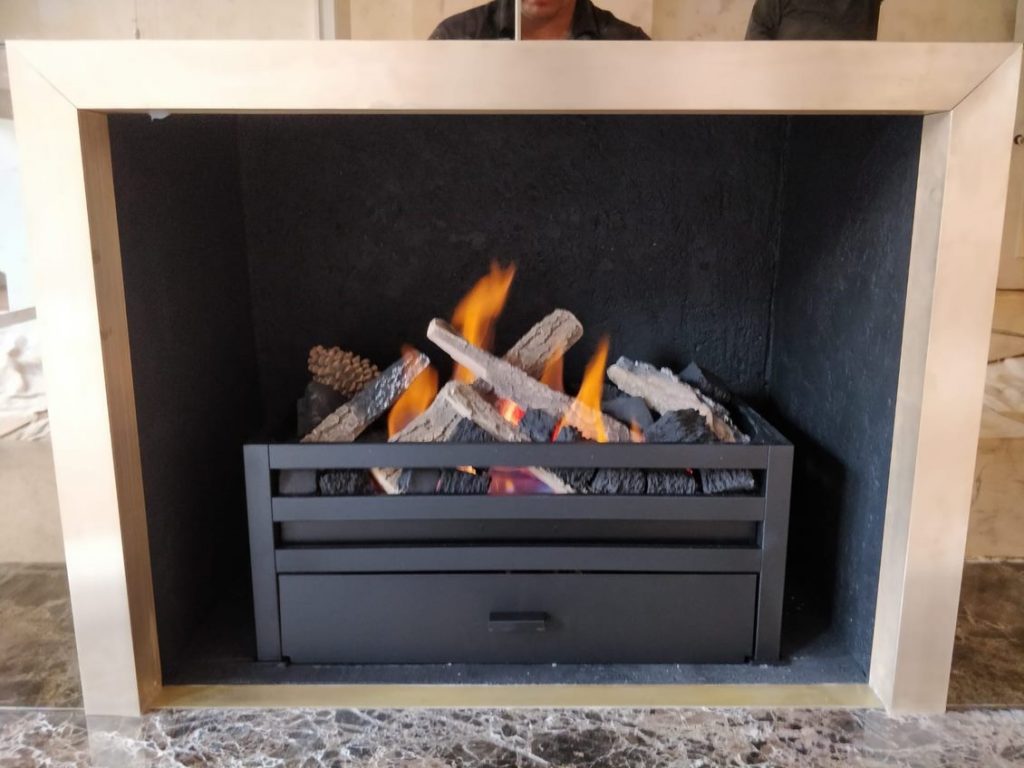 Not all homes have the luxury of space that an industrial themed fire needs, especially not in London, which is why we also design fireplaces in London that are made to fit. This tiny fire can really put out some heat and it certainly makes a flat, apartment or bedroom feel far cosier.
Fuel Storage
Sometimes, a fire's beauty is in the way it works in harmony with the rest of your house. In this first section, we consider how innovative thinkers have revolutionised the fuel storage techniques for wood burners and bioethanol fires.
6) Neat Log Stack
This efficient log stack shows how a smart fireplace can bring character and warmth to a minimalist design. Minimalism and Scandi is all about finding neat and clean solutions, an idea which often has a lot of innovation behind it. These logs add height to your fireplace and the promise of a cosy winter.
7) Neat Log Shelf
Slightly busier than the previous suggestion, this fireplace fits with the stark colour scheme of the room, meanwhile the earthy tones of the logs are used in accents like the table, wicker baskets, and brown sofa. Using these log colours in other aspects of your room design means that when you install your fireplace, your firewood will work with your aesthetic.
8) Breaking It Up
Sometimes, breaking up the woodpile a little with a stylish idea or design can add a little life and variety to your fireplace. In this image, the log stack has been broken into two asymmetrical segments, but the logs feel cohesive with the rest of the room because their colour is mimicked in the art to the left of it, the wooden ornaments on the mantelpiece and the underside of the leather recliner.
9) Rustic Storage
This image was taken within a minimalistic home but is well suited to any woodburning stove set-up. The gentle cascade of logs and kindling tepee either side of the fire is casual but tidy and very effective.
10) Under the Stairs
Yet another fireplace that shows that the integration of your fuel into your home's design is important to create a cohesive room that is relaxing and warm, but this time with a twist. Here, the fuel is as much of a focal point as the fire pit.
For a fireplace that is distinctly you, contact us with your ideas or questions and we will help you to choose and design the perfect fireplace. As you can see, we have had plenty of experience designing and installing fires so trust us to get it right for you. In the meantime, you can view a feed of our latest creations from our Instagram account:
Get in Touch with Real Flame for more Advice and Information