We're thrilled to introduce one of our latest brands to all our customers here at Real Flame. Neverdark is a company specialising in innovative bioethanol burners like none other on the market. They have created a fantastic range suitable for all homes, no matter your preferred style or the room in which you intend to use it.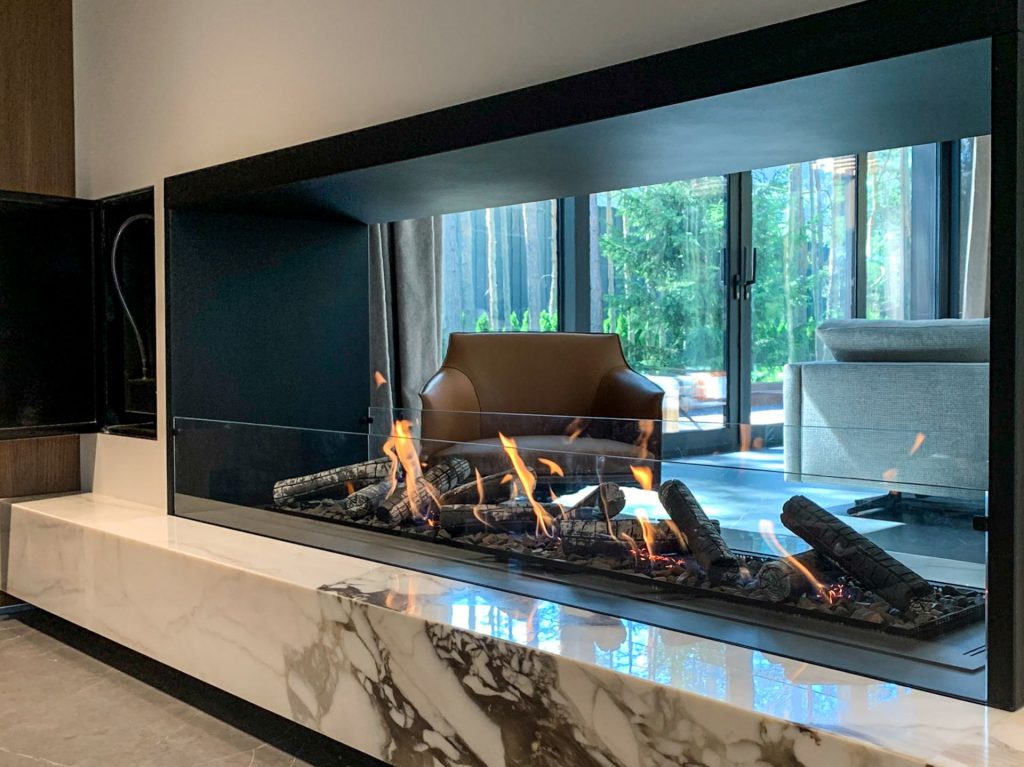 As leading providers of the best fireplaces available, we always try to stay one step ahead and provide our customers with the latest and greatest fireplaces. So whether you're looking for a modern and contemporary design for your home, or a traditional fireplace, we have exactly what you need. Explore our incredible range of bioethanol burners on our website and in our London showroom. For now, let's take a look at Neverdark's fires here at Real Flame.
Who Is Neverdark?
Neverdark is a Ukrainian manufacturing company that focuses on creating innovative, functional, and eco-friendly fireplaces. Although their bioethanol fires are new to Real Flame, they launched over 15 years ago and are already very well established in the industry. They pride themselves on offering fireplaces that are out of the box and different from the standard designs you see time and time again.
Neverdark's range of fires is inclusive and available to those without ventilation. Thus, you can place their bioethanol burners anywhere in the room you desire – perfect for those who want a flame but don't have a chimney.
Additionally, one of their focal points is to shift the world of fireplaces to a more eco-friendly and sustainable pathway, which they do with their fantastic range of bioethanol burners.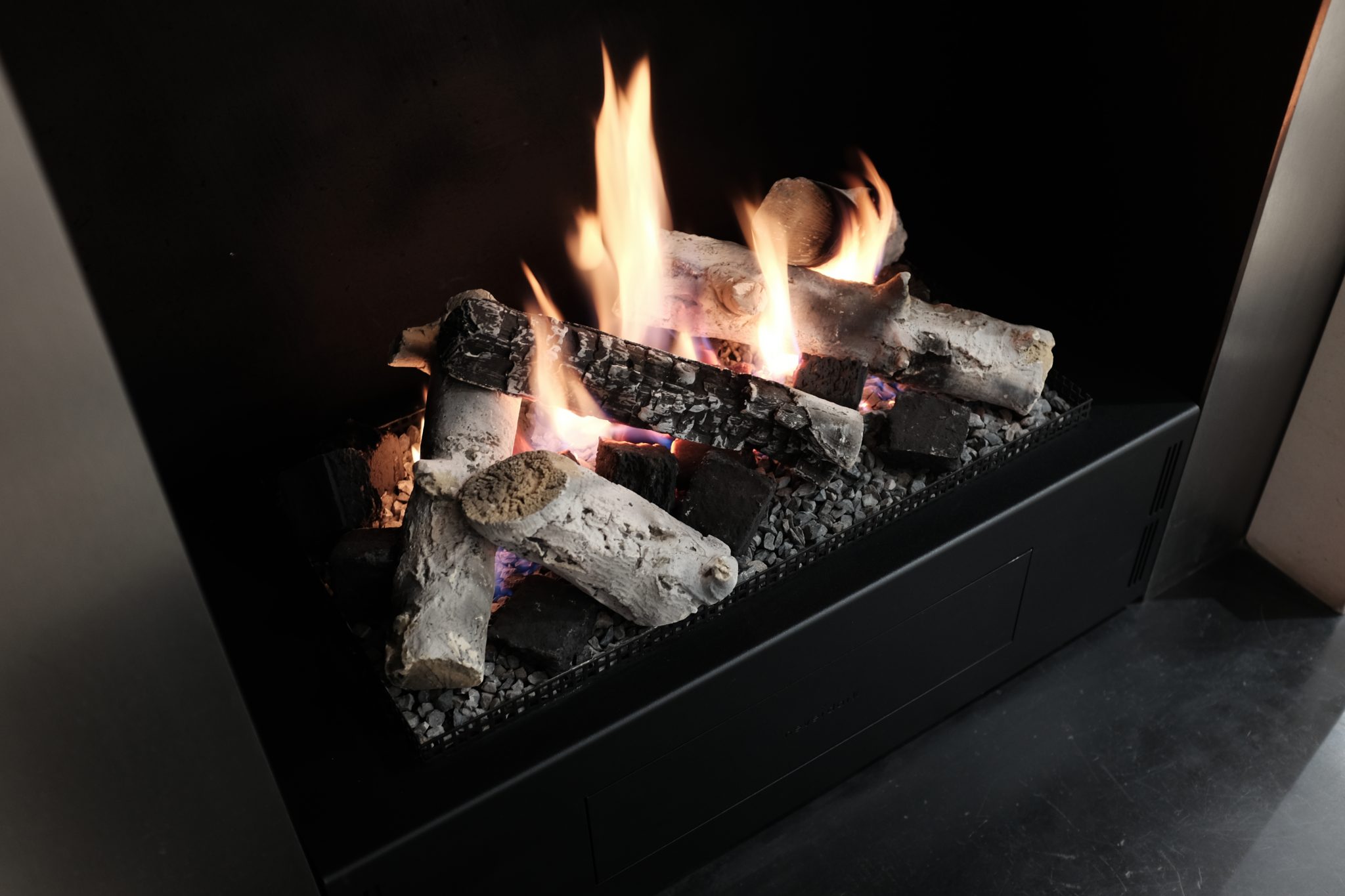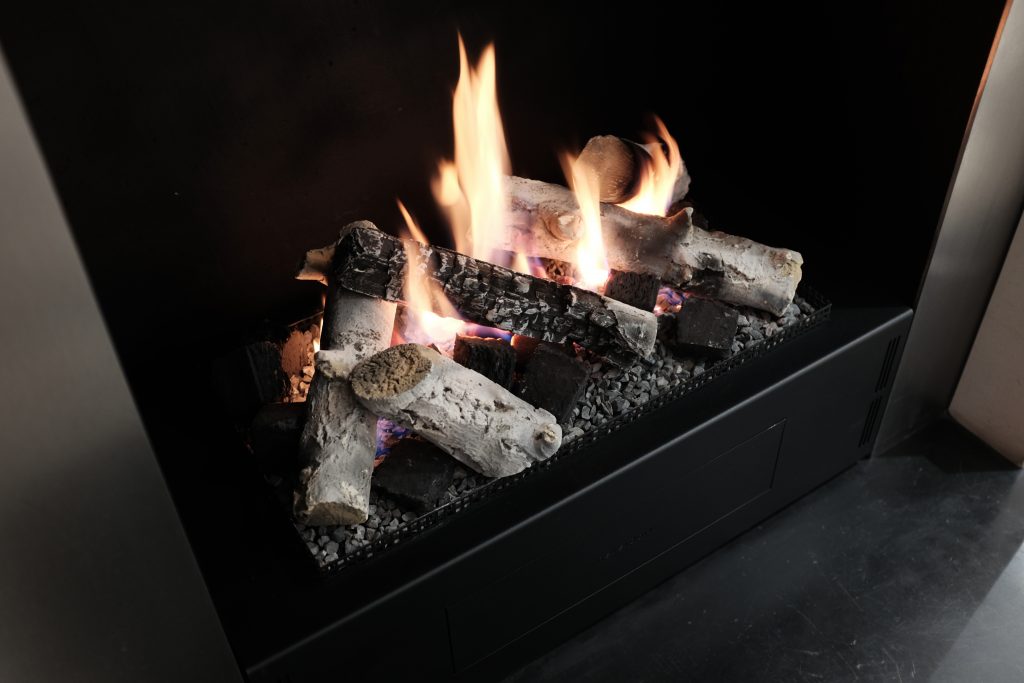 Neverdark's Range of Bioethanol Fires
Here at Real Flame, we have a great selection of Neverdark's bioethanol burners. So whether you're looking for the perfect fireplace for your living room, bedroom, office, or outdoor entertainment space, you are sure to find what you're looking for with Neverdark at Real Flame.
One of the most remarkable features of all Neverdark's bioethanol burners is that they are remotely operated, meaning you have the capabilities to control your fire's settings from your phone. A fantastic feature for those chilly winter evenings – just pop the fire on downstairs while you're still in bed and wait for the room to warm up before leaving the comfort of your duvet.
Neverdark Chalet Burners
The Neverdark Chalet I Burner and the Neverdark Chalet II Burner are two of the most innovative bioethanol burners created and have been named the most exciting on the market. They are the first to create a full natural flame that can be dressed with our stunning ceramic logs, coals, or pebbles. This is an incredible improvement on previous bioethanol burners and provides a volumetric gas-like flame pattern, as demonstrated in the images. The flames wrap around the logs, coals, or pebbles, intertwining with the décor to provide a realistic flame. Every other bioethanol burner on the market has a limitation: they are required to be dressed with the items around the flame. The Chalet I is available in a 650mm model, whereas Chalet II comes in two different lengths – 950mm and 1200mm.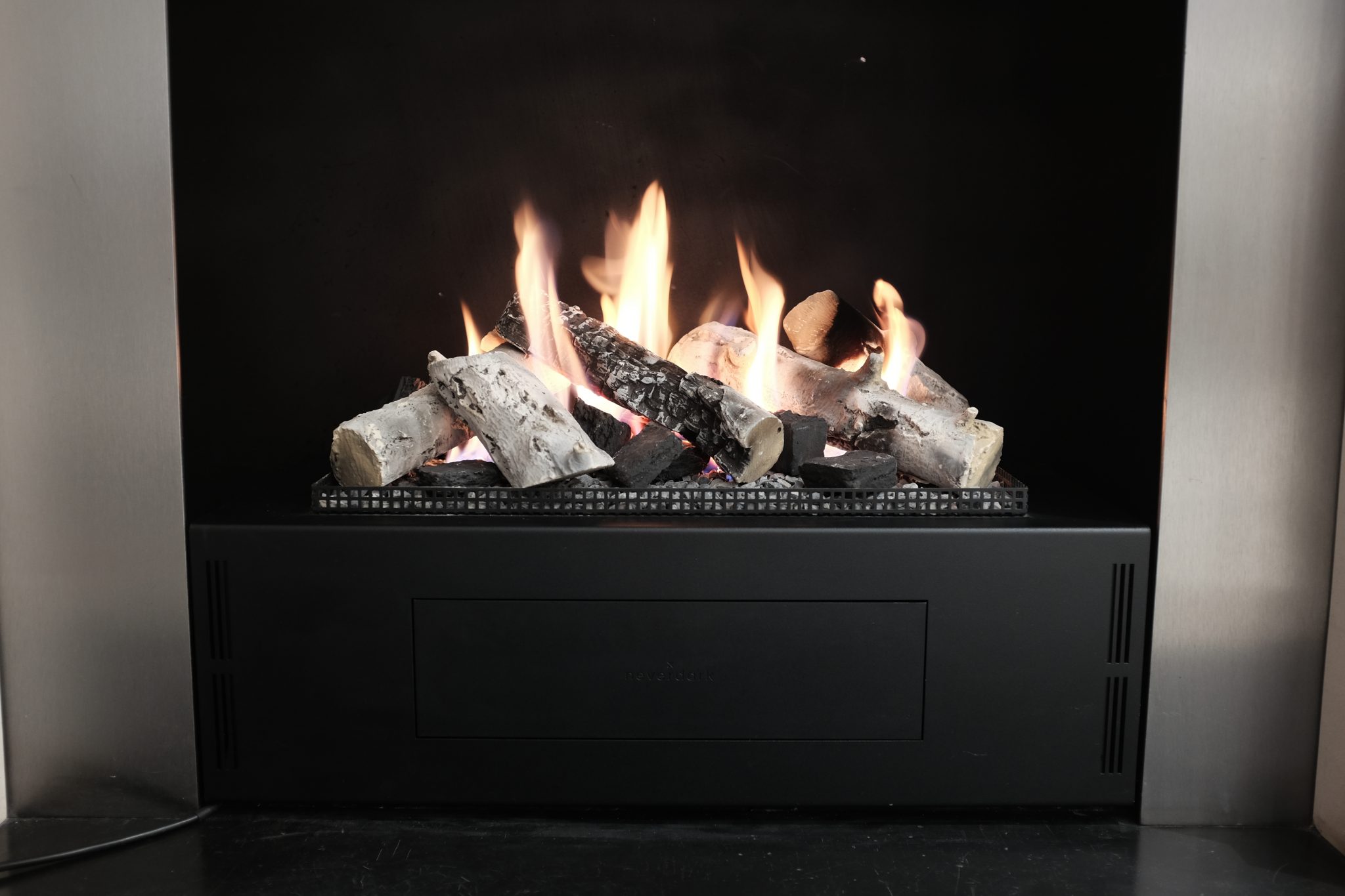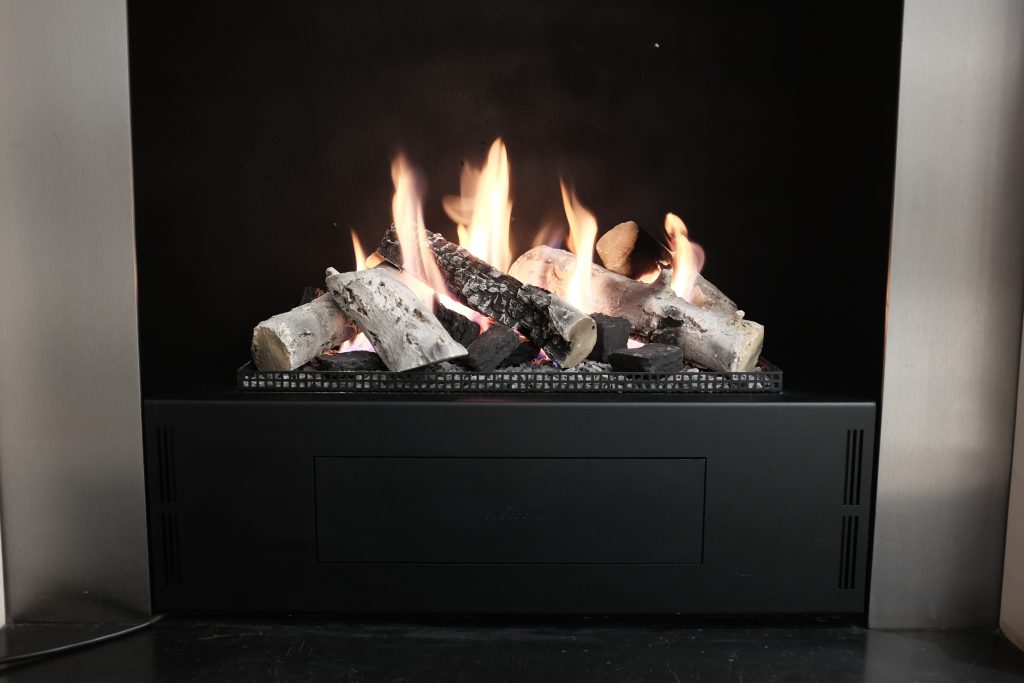 Available as a freestanding fireplace or as an integration with the Neverdark Chalet I Firebox – there are plenty of options to suit all aesthetics and favoured styles. With both internal and external filling pumps, the Chalet I Burner provides a fuel capacity of 3.1 litres and up to 5.5 hours of continuous burn time with up to 10 kWs of heat. Additionally, Chalet II has a fuel capacity of 9.1 litres, up to 5.5 hours of continuous burn time, and up to 10 kW's of heat available. This is all controlled through the smartphone app – making it the perfect choice for those cold winter nights when you don't want to move from the couch.
Neverdark Automatic Burner
The Neverdark Automatic Burner is the brand's third generation of bioethanol burner. This burner is their most versatile yet, perfect in any application, from cosy bedrooms and family lounges to bars, restaurants, and large venues. Neverdark describes the Automatic Burner as "ready for any project", which is entirely accurate. Available in five different lengths, from 700mm to 1500mm, every space is made for this fireplace. Make the Neverdark Automatic Burner your own with the choice of a matte black exterior finish or a colour from the RAL palette.
Neverdark Firetec Burner
The Neverdark Firetec Burner makes a fantastic addition to any home or commercial space. Available in model lengths from 700mm to 2500mm, and bespoke sizes up to 10m, you can really make this burner part of the furniture with the help of Real Flame. Utilise the smartphone app to control the smooth flame regulation, access the safety pin, and use the sleep timer – ideal for bedroom fireplaces. Perhaps one of the most innovative bioethanol fires available on the market – don't miss your chance to install Neverdark's Firetec Burner in your home.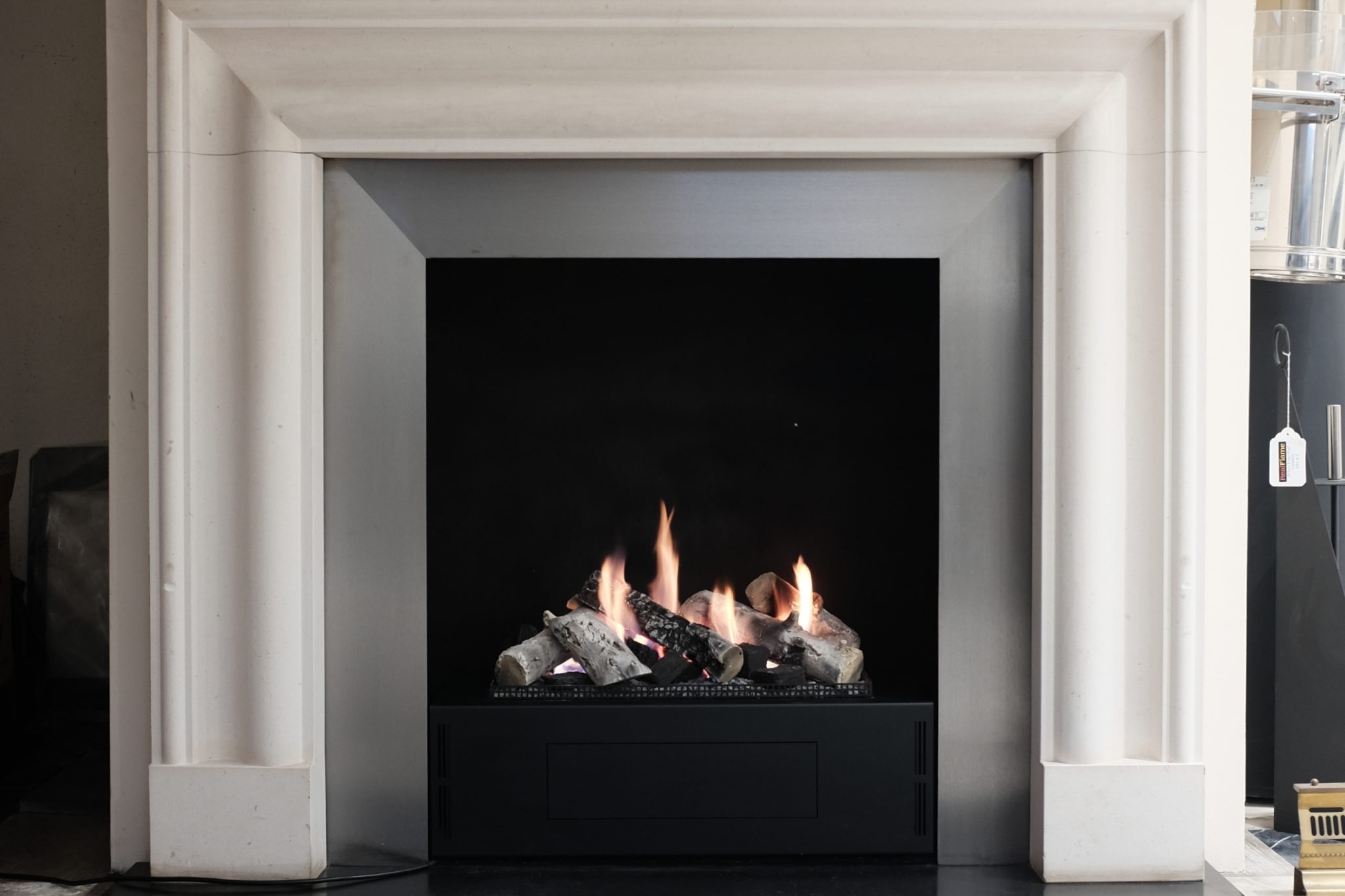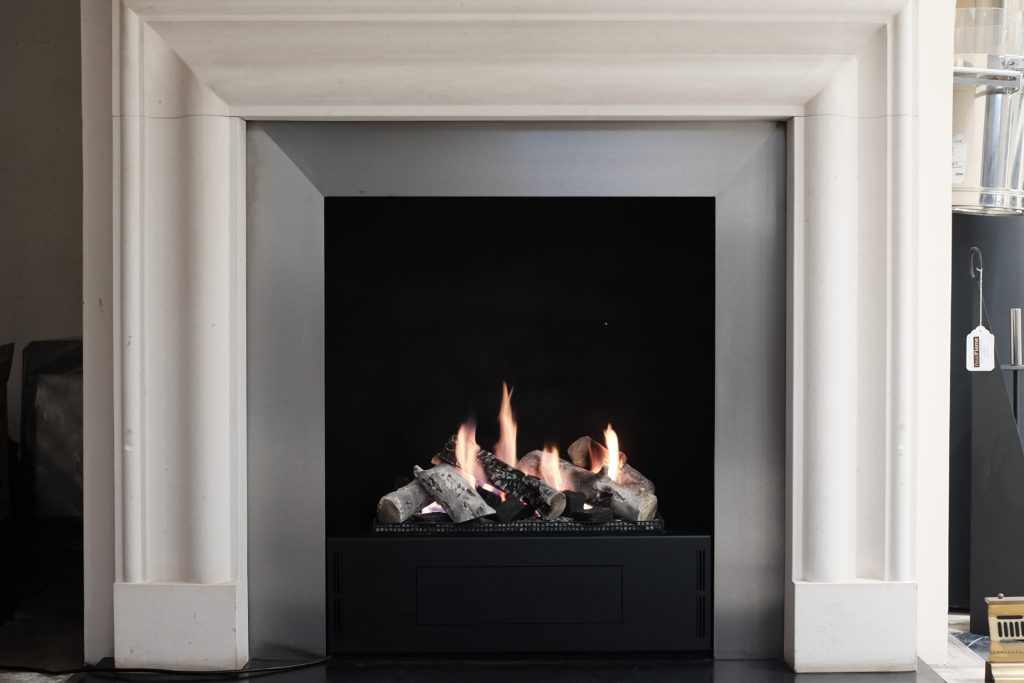 Bioethanol Burners at Real Fire
As retailers at the forefront of offering the best domestic bioethanol fireplaces shop in London and the UK,  you can trust us when we say that the Neverdark range is one of the most innovative, beautiful, and functional collections of bioethanol fires available. We're thrilled to provide this new range of remotely operated burners to all our customers here at Real Flame.
Please explore our website, where you will find the full product descriptions of each burner and more information about our other collections of bioethanol fires. If you have any questions about the products listed above, or you would like to enquire about our fires and installation services, please don't hesitate to get in touch – we're always more than happy to help out our customers and offer expert advice.
Get in Touch with Real Flame for more Advice and Information