The winter months are all about cosying up in front of a warm fire with loved ones. In this blog, we're looking into the various ways you can style your fireplace as the nights get cooler. From mantelpiece décor to fireguards, we'll help you achieve the interior design you're looking for.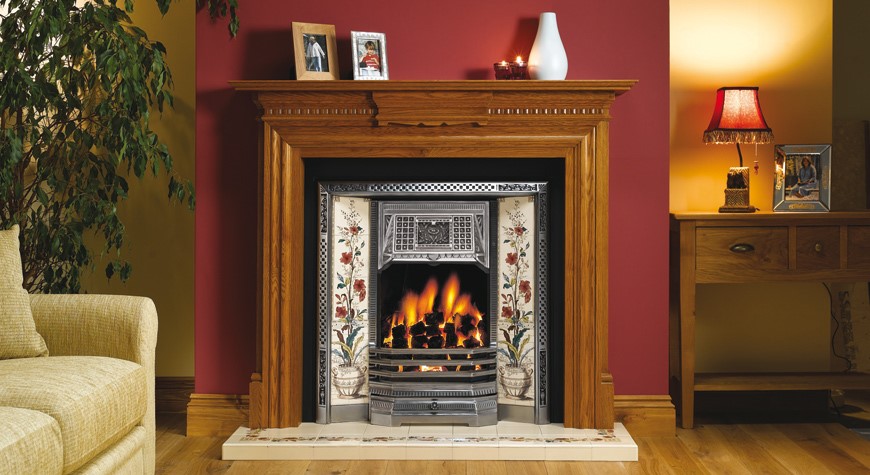 Mantelpiece Décor
Mantelpiece décor is a feature of many modern homes, and the beauty is that you can create a balanced look whatever your taste. Whether you decide to hang a mirror in the middle of your mantle or display a large vase as a centrepiece, you can be sure that your fireplace will be the talking point of your home.
You can also enhance your mantlepiece with smaller accessories, such as candlesticks, photo frames and decorative objects to display your personality and style. Choosing colours that complement the materials and decor in the rest of your room can also set the mood and tone in your home.
Freshening up your mantelpiece with seasonal items such as pumpkins, garlands, greenery, and branches can give you a unique look, create visual interest, and bring a natural element indoors.
Tiling Or Wallpapering Around your Fireplace
Highlighting your showstopper fireplace with coloured or patterned wallpaper is a great idea if you want to make more of a statement in your home. By wallpapering around your fireplace, you can make it more of a focal point in the room, adding style, personality, and colour. Choose to paint the mantlepiece the same or contrasting colour to add to the overall aesthetic of your design.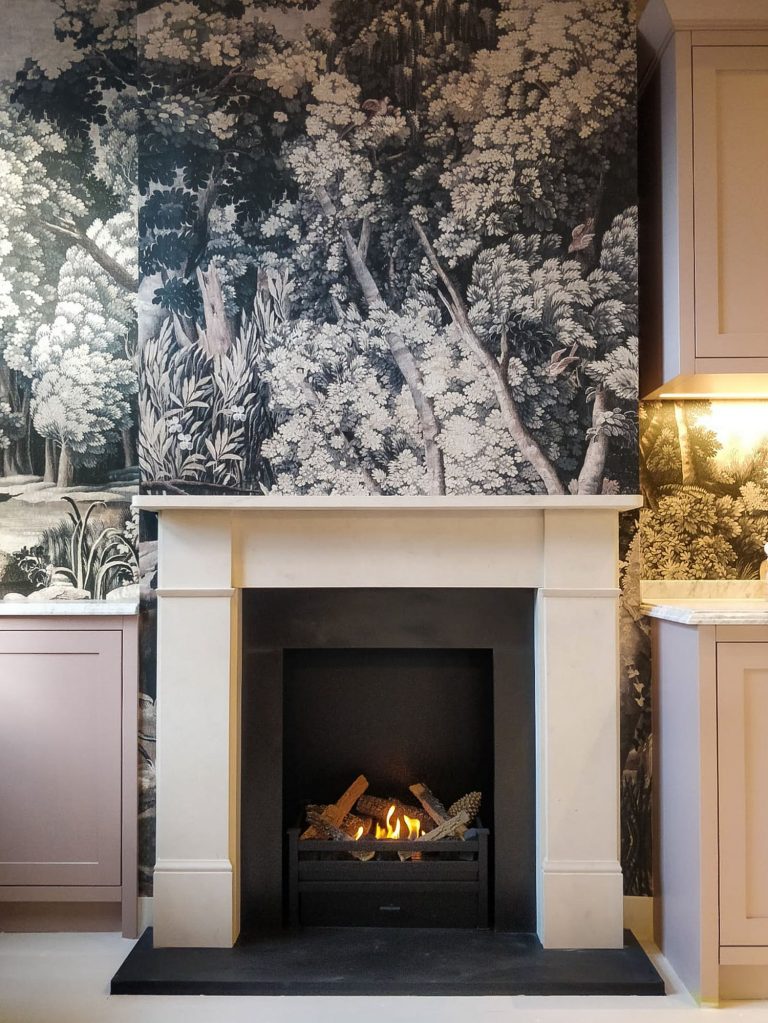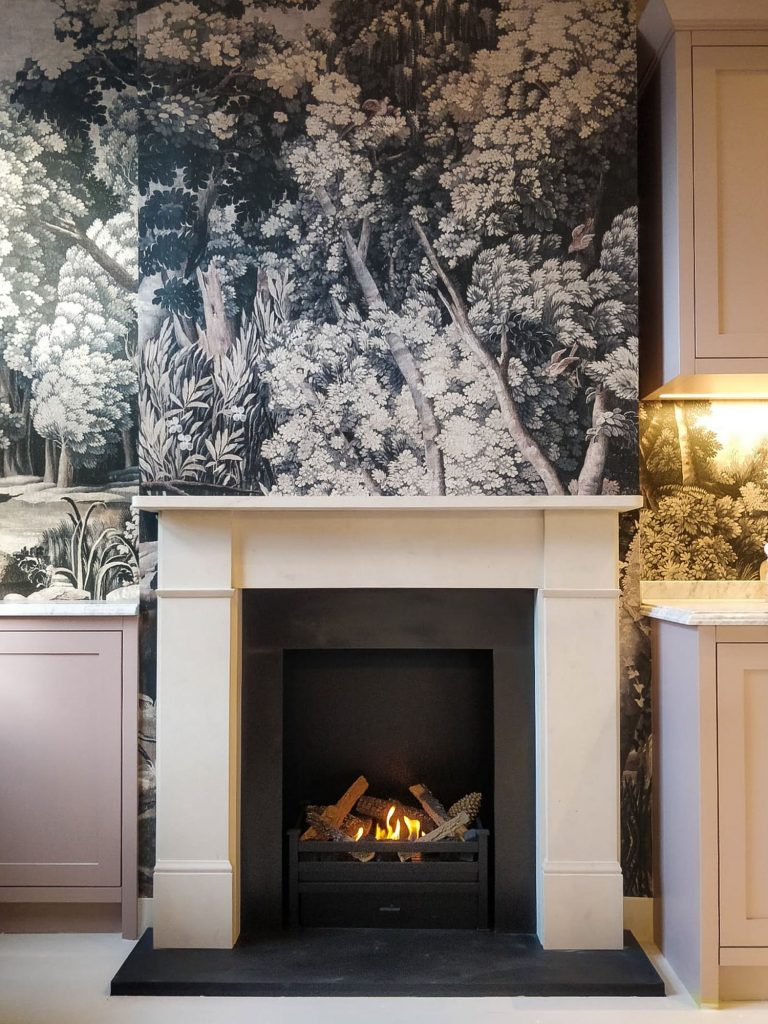 The beauty of tiles is that they come in various shapes, sizes, and different colours, so there are plenty of options to choose from, whether you decide to make your fireplace the focal point or you want something a little more subtle. If you prefer a more rustic look, then tiling around your fireplace might be the best option. Most tiles are heat resistant, but you should always ensure that the heat source is at least 20cm away to prevent cracking and discolouring.
Choosing the Right Colour Fireplace
If your fireplace is more of a practical element than a feature, we would suggest choosing a shade lighter or darken than the colour of your interior design so that the fireplace doesn't completely take away from the decor in your home — you should consider this for the decor around your fireplace too, including wallpaper and tiles. Our most popular fireplaces and stoves are black, silver or glass fronted — giving you a natural look with more attention on the surrounding furnishings. You can see them in our fireplace shop in London.
How to Make a Fireguard Look Presentable
Fireguards are not just for open fires; the protective screen can help safeguard surrounding furniture, pets, and young children. While traditionally, they may not look the most aesthetically pleasing, modern-day fireguards come in a range of shapes, sizes and styles to complement your fireplace. From folding to curved and classic, we have a range of all-purpose fireguards that will provide a layer of protection and ensure safety in your home.
You can match the colour and shape of your fireplace to your fireguard, as well as incorporate it around your hearth for a more seamless and minimalistic look.
Choosing a Fireplace That's Right for You
Here at Real Flame, we offer a range of contemporary and elegant wood burning stoves in London. We have something for everyone, from traditional styles that adorn victorian fireplaces to modern solid fuel stoves.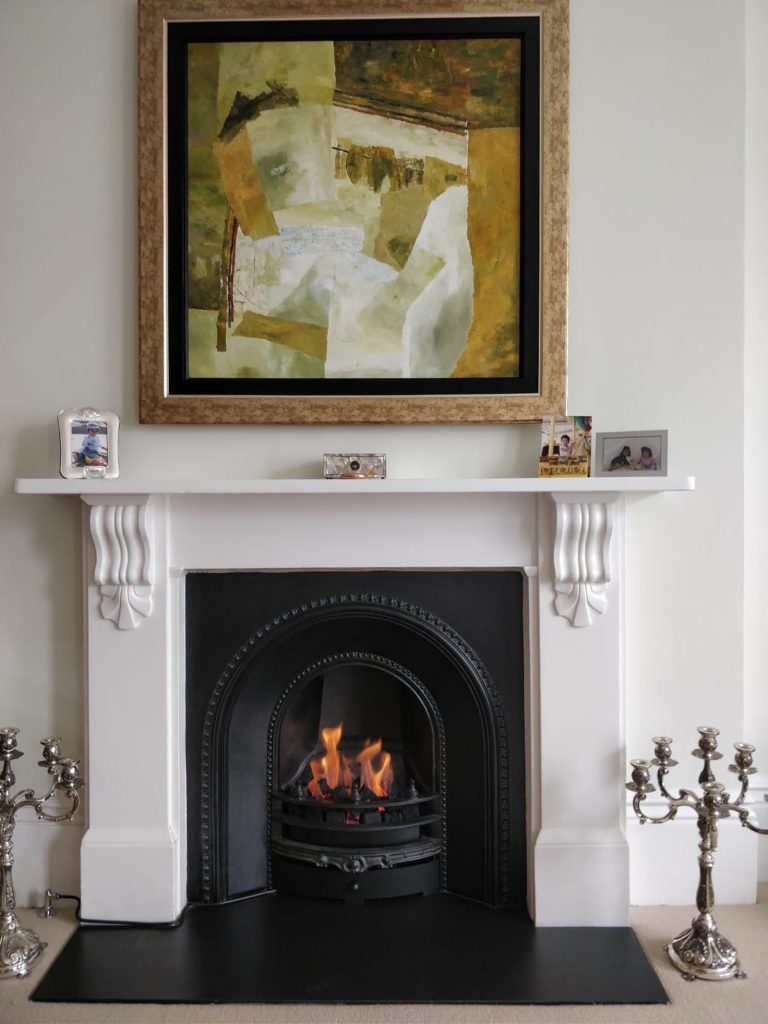 If you're looking to install an environmentally friendly stove in your home, then a wood burner is a fantastic option for you. You can cut your carbon emissions and reduce your heating bills too! Take a look at our range of contemporary multi-fuel stoves and our traditional stoves to see what style you like best.
Alternatively, if you prefer an electric real flame fire, we also have a high-quality selection to choose from. The luxury of electric fires is that you can create the ambience of traditional fires without greater expense and fuel requirements — as they run off your home electricity supply. You will also have less maintenance and cleanup to take care of, so you can simply sit back, relax and enjoy the warmth and aesthetics of having a fire in your home.
---
If you want to find out more about any of the fires we have on offer here at Real Flame, please get in touch with us today, and we'd be more than happy to help you find the right fireplace for your home. You can also visit us at our fireplace showroom in London where you can see first-hand the quality and range we have on offer.
Get in Touch with Real Flame for more Advice and Information