As the days get longer, and the UK eagerly anticipates lazy afternoons spent in the local bar or restaurant lapping up the sunshine in the outside bar area, here at Real Flame our attention turns towards what exactly it is that makes a good outside bar so… good!
Could it be the change in scenery? With an average of 120 days of rain annually, sometimes taking our food and drinks outdoors is simply a nice change. However, more often than not, and particularly in recent years, outside bar areas have seen a swift rise in popularity.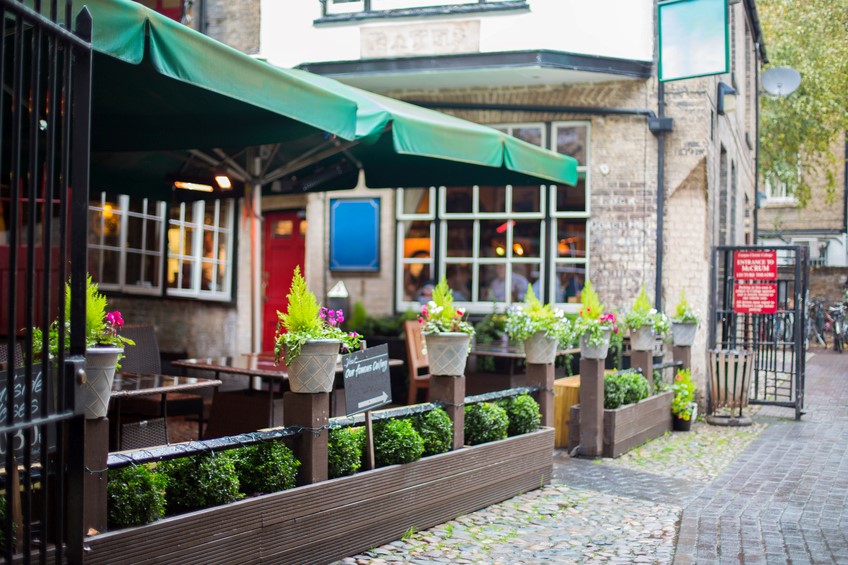 This is due largely in part to the greater amount of focus that publicans, restaurant managers, and owners place on renovating outdoor areas for customers. The demand (and need) for a visually captivating and welcoming outdoor bar has become a necessity, and if it encourages custom, then any good business owner understands that as much emphasis as possible should be put on utilising the space available.
Humble Beginnings
Outside bar areas, sometimes commonly referred to as beer gardens, have been a traditional part of European culture for many years.
Although we will never know for definite, it is understood that the first beer garden was opened in Munich in the 19th century, by one of Munich's 'big six': Löwenbräu, Hofbräuhaus, Augustiner-Bräu, Paulaner, Hacker-Pschorr and Spaten.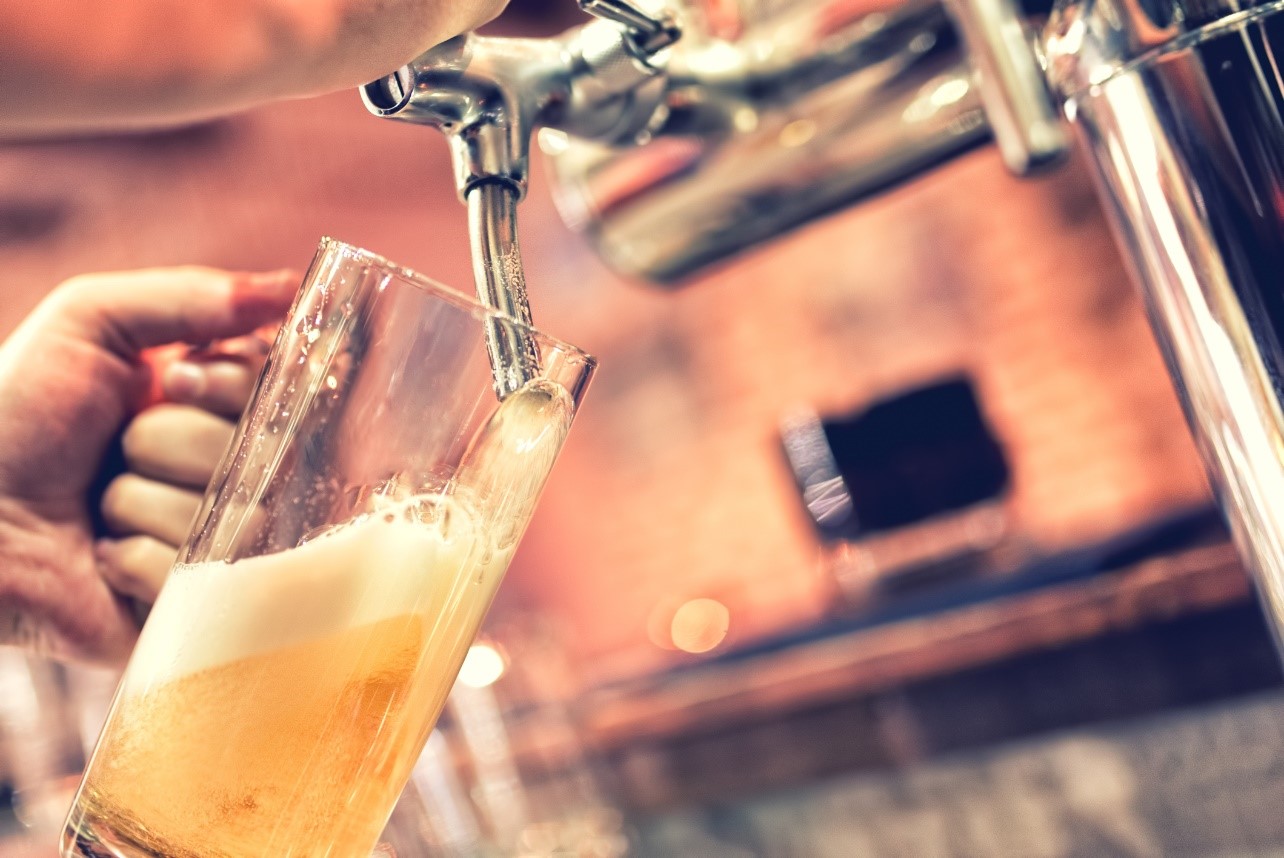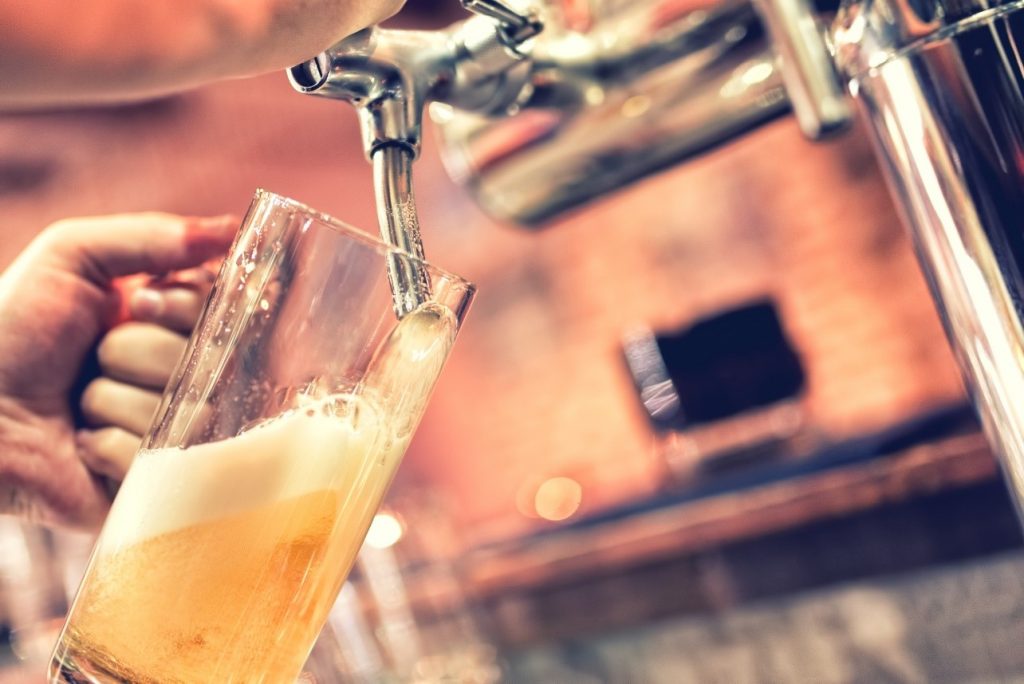 Where in modern culture, an outside bar is most certainly a place to cool off on a warm summers day, enjoying food and drink from the merchant in which the patron is frequenting, back in earlier times a decree was created to ensure that using an outside bar, or beer garden, was in line with certain standards.
Notable rules included the fact that it was acceptable for customers to bring their own food (as long as they brought their own tablecloth, too!) and all tables were to be open and shared between strangers in a way of encouraging socialising.
In some traditional beer gardens today, some of these rules remain, and the restaurants and bars benefit immensely from the nod towards the cultural and historical ideologies set up many years ago.
But what can you, as a business owner, do to replicate the success from a traditional beer garden, in your contemporary space? The simplest way to achieve a thriving and busy outside bar area is simply to ensure that the surroundings are inviting. Opting to invest money now into the outdoor area has the potential to make you far more money later – take a look at some of the greatest examples below for inspiration.
From Rooftops to Underground Bars
Taking a quick search online, it is clear to see how diverse outside bar areas are from around the world. Here are some of our favourites.
Hofbräuhaus, Munich
An outside bar area that takes the traditional aspect to the next level, mainly due to the fact that many believe that it was one of the first bierhausen's in the world, is the Hofbräuhaus in Munich.
Focusing all of the action around an outside courtyard, long tables with accompanying benches are often filled to the brim with dedicated tourists, ready to experience the wide selection of traditional beers and spirits in its purest form.
For continuity, servers don the Bavarian dirndl's as the traditional music floats above the festivities – an outside bar idea to take much inspiration from!
Piscine Dei Castelli, Sestri Levante, Italy
Nestled deep within a grotto on the Ligurian coast, the blink-and-you'll-miss-it bar that is Piscine Dei Castelli is the epitome of an outside bar area.
With several areas dedicated to different types of music, bridges transporting visitors to said differing sections, and stunning outdoor heaters at every turn, the beach club turned bar at night is a delight for all in Northern Italy, with many travelling for several hours to the area specifically for the Saturday night festivities.
One & Only Reethi Rah, Maldives
A popular honeymoon holiday destination, the Maldives needs nothing other than the crystal blue waters and white sands to entice visitors annually. Yet, The Beach Club at Clubone, which is part of the One & Only Reethi Rah resort, is unique in its simplicity, style and sophistication.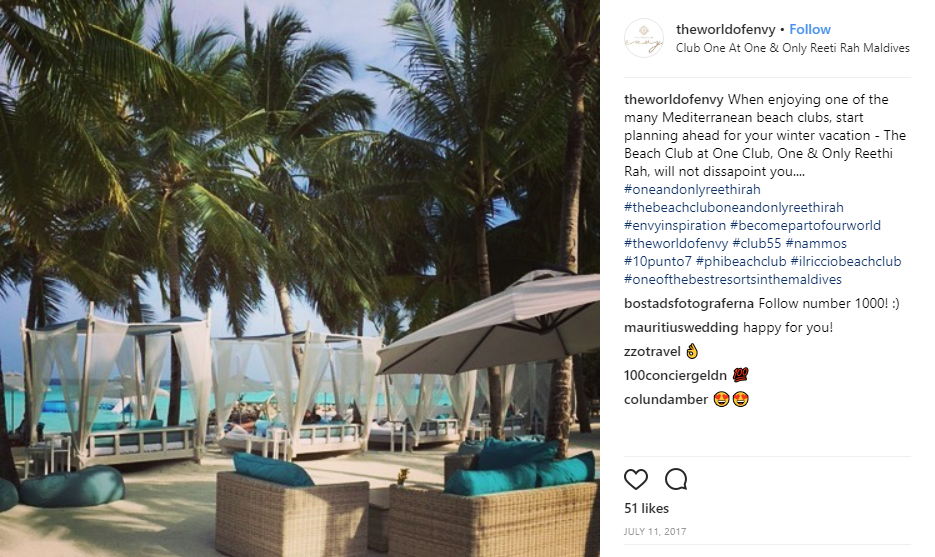 Situated perfectly on the beach, boasting refreshing drinks and healthy bites, relax under the canopies on comfortable sun loungers and watch life pass you by…an outside bar area that's laidback style can be replicated in your own outside bar.
D|Two, Dublin
In Western Europe, nice weather is never a guarantee. That's exactly what makes the outside bar area in D|Two, Dublin so unique.
Designed to withstand the harshest of rainy conditions, the retractable canopies ensure that the outside area is perfect for use all year round.
Tucked underneath the main bar, the beer garden is built into the rocks, filled with comfy seating and atmospheric outdoor heaters. If you find yourself in Dublin, don't forget to visit!
Sky Bar, Bangkok
If an outdoor area with breathtaking views sounds like your cup of tea, then ensure that Sky Bar in Bangkok is at the top of your list.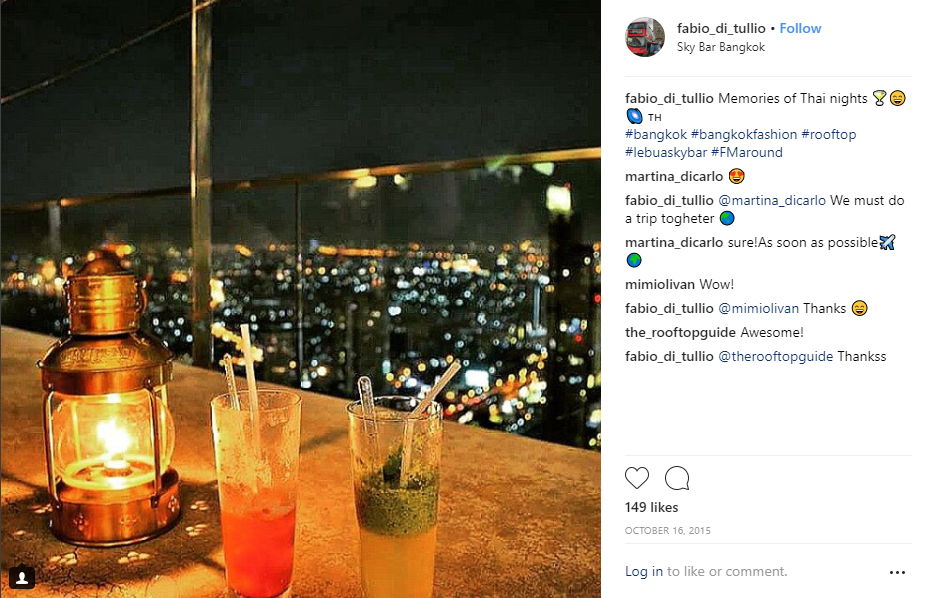 The highest rooftop bar in the world, fantastic music, world-famous cocktails and a cool design scheme make up the chicest outside bar area above 800 feet.
Case Study
Trusting in our excellent combination of experience, stunning design and rigorous research procedures, companies frequently choose Real Flame to help instil some of the above ideas to their outside bar areas. Take a look at one of our most recent case studies below.
The Ivy Chelsea Gardens
During the beginning of 2016, Real Flame was approached by a leading bar and restaurant group, Crown Outdoor Ltd, with an interest in collaborating to design a stunning outdoor area at one of their busiest establishments: The Ivy Chelsea Gardens.
Nestled on one of the trendiest roads not only in Chelsea, but in the entire of London, the brief was clear – enhance the outdoor space for winter and summer usage, with traditional and realistic fireplaces that are usable all year round, whilst incorporating the new multi-level roof system into the design.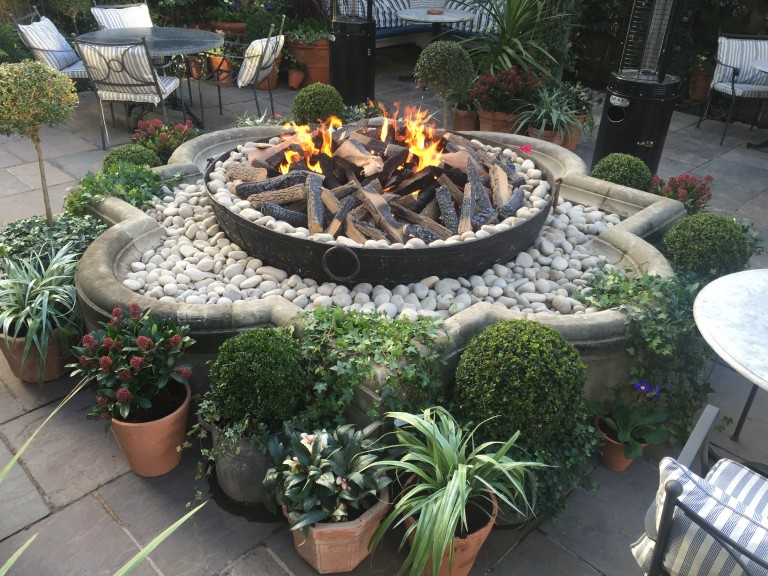 This brief was not only achieved successfully but also recognised and publicly accoladed for its design and installation work. Construction magazine BUILD named us the creators of the Best Commercial Fireplace Project 2016 and awarded us the Most Creative Company 2016 – Europe; incredible achievements from an exceptionally hard-working and understanding team of experts.
The end result was a remarkable outside bar area, complete with two bespoke outdoor fires and one removable fire pit, reflecting both the innovativeness of Real Flame yet acutely capturing the essence of The Ivy Chelsea Gardens.
Our Range
A range which has grown in prominence in recent years is the GlammFire Bio-ethanol burners that we stock. Differing from ordinary fuel in that it is completely composed of biological products, using the sugar and starch components of plant by-products, the modern looking burners are a trendy new way of warming an area whilst remaining at the forefront of style.
The extensive range includes clean burning fireboxes and grates with a beautiful dancing flame, perfect for both indoors or outdoors.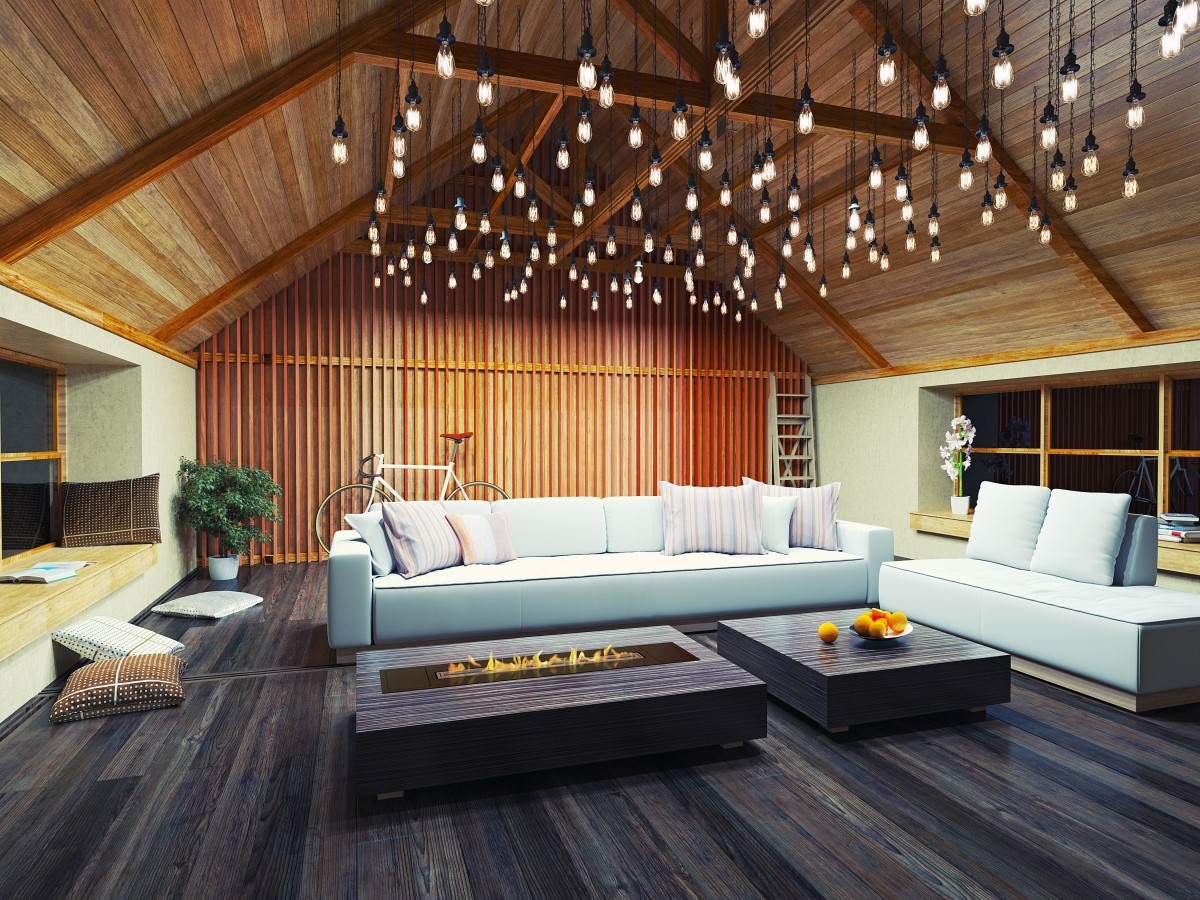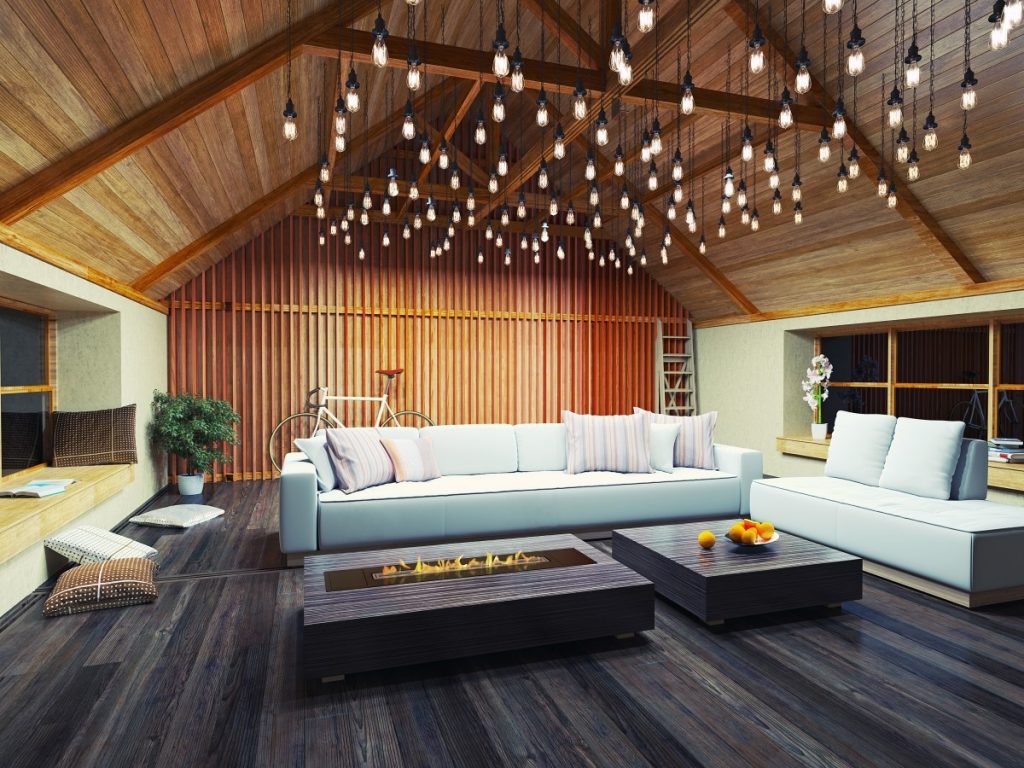 If any of the above ideas have captured your imagination, and you would like to discuss further how a Real Flame fire can catapult your outside bar area from standard to spectacular, contact us today – our friendly experts are more than happy to discuss any type of brief with you.
Get in Touch with Real Flame for more Advice and Information