In this blog, we will talk about how to recreate a Victorian style room in your home, from the furniture to the fireplace. If you've ever wondered what a Victorian fireplace should look like, and what type of furniture to pair it with, you can find out here. Now is the perfect time to plan your next home renovation, read more for victorian decorating ideas.
Victorian Fireplaces
There is no standard look for a Victorian fireplace. Just like modern interior design, there were many phases and fluctuations regarding the types of designs that were considered trendy by the Victorians. In many ways, their concept of interior design was governed by similar ideas as our own; those rooms that held the most visitors would be the most lavishly decorated, and this applied to their fireplaces too.
If you're looking to instate a Victorian fireplace into your home, this means that you need to think about where it is going to go, and how authentic you want to be. If you're looking to create a toasty environment in your bedroom, then looking towards a Victorian counterpart would mean considering installing a rather simple, black cast-iron fireplace in London whose purpose is simply to get the job done.
Alternatively, if you're thinking about recreating a Victorian formal sitting room, your fireplace might become an attempt to represent your social standing. Of the designs that were most popular during Queen Victoria's reign, there was the phasing out of Regency and Georgian style fireplaces, replaced by ornate wrought iron designs with floral motifs and tiling. Towards the end of the period, the typical fireplace returned to simpler shapes, but was still typically cast in black iron.
Below are a few fireplaces inspired by Victorian designs: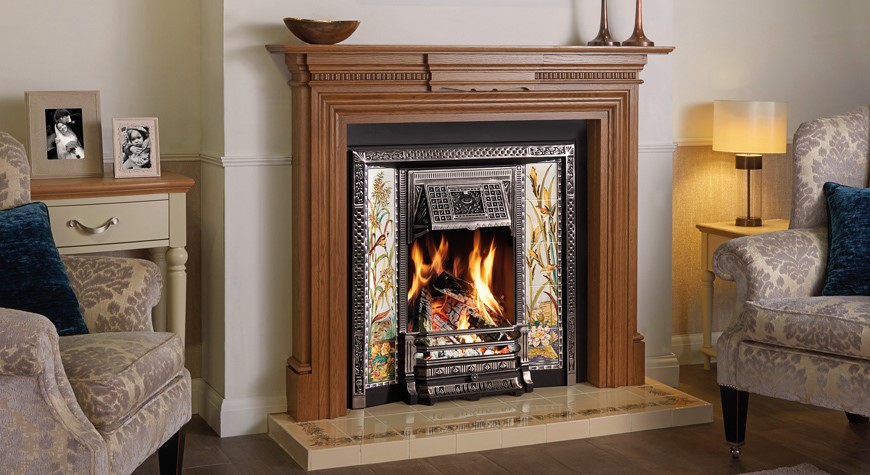 This Gazco fireplace represents some key Victorian features. This is clearly a fireplace for the front room, as it represents flourishes that are intended to impress guests and visitors. To begin with, the fire itself is constructed from the black iron that was so popular with the Victorians. This black iron is decorated with a carefully wrought border, which is also inlaid with beautiful tiles. These tiles display plant life – a popular theme for the Victorians – and the colour scheme draws in features from the surrounding furniture. The wooden mantelpiece complements the floor nicely, and its construction speaks of the early Victorian period when Georgian and Regency-style features were still highly popular.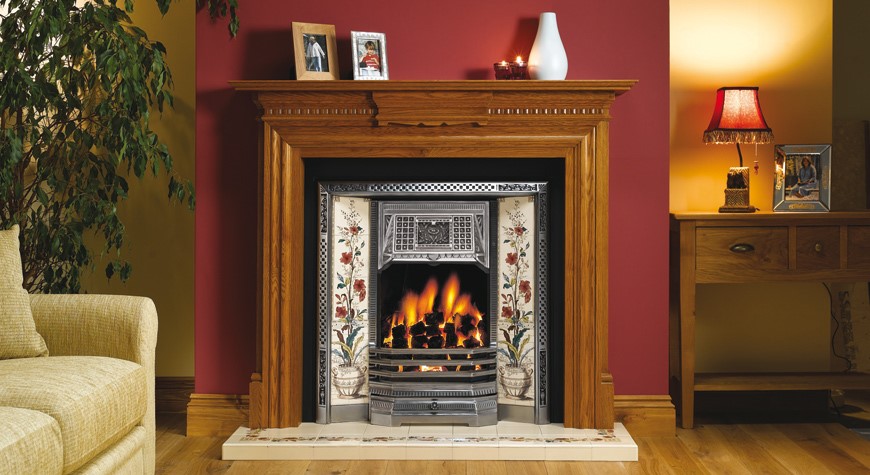 Here is another Victorian styled fireplace from Gazco that shows how a tiled fireplace can bring elements of colour in your interior design together. The red flowers used in the tiling bring out the deep red in the chimney breast, whereas the elaborate wooden mantelpiece ties together with the flooring and desk.
Victorian Style
The Victorian era contained the peak of the industrial revolution, and with it came the ability to revolutionise interior design for the middle classes. It was now cheaper to achieve the flourishes and decorations that the upper classes loved. As a result, the Victorians became masters at faking designs and elements from cheaper materials to create an affluent look.
To achieve a Victorian style, you will want to think carefully about adding a variety of decorative flourishes. Floral designs were popular with the Victorians decorating ideas, so you might consider emulating this through rugs, sofa coverings and tapestries.
Compared to modern design, the Victorian style often looks quite busy, but what draws it all together tends to be the patterns and the colours that are used.
Victorian Lighting
Lighting was very important for the Victorians, but electric lighting wasn't always possible or as bright as it is today. For this reason, a mix of lamps and candles decorated a Victorian household. Sconces holding tall candles are considered quite handsome in a Victorian household, and it's a scientific achievement to be able to pair an effective electric reading lamp with the romance of a real hearth burning away.
Victorian Colour Schemes
Victorian colour schemes were often driven by faded colours across the spectrum. Dark colours were enjoyed, but rarely intense colours. Gentle beiges are a colour often used for walls in Victorian homes, which pairs well with any lighting – being neither too dark nor too bright.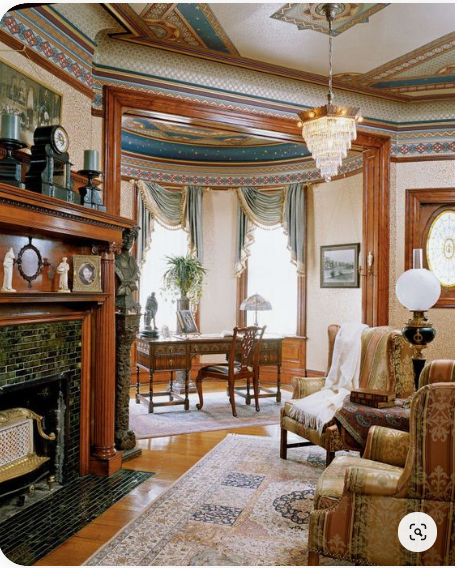 https://www.pinterest.co.uk/pin/528187862544142668/
It is up to you to create a Victorian inspired room that you feel comfortable in and hopefully, our Victorian decorating ideas will help. If you don't feel that recreating the Victorian aesthetic is entirely for you, then perhaps introducing a few elements that capture the Victorian mood will be more beneficial in achieving a look that is unique to you. The fireplace was given a lot of focus in Victorian interior design, so we understand if you're thinking about starting there. Contact us to discover how to integrate a Victorian fireplace in London into your establishment.
Get in Touch with Real Flame for more Advice and Information