As we head into winter, there is nothing better for beating those frosty nights than a gas stove. During winter, spending time with loved ones curled up in front of the fire can't be beaten.
But while the crackling of a real fire in a traditional fireplace might seem appealing, wood fires come with numerous disadvantages like maintenance and clean up, problems that you don't get with gas stoves.
So, if you're looking for a cosy way to warm your home this winter without all the hassle of burning wood and clearing out a chimney flue, a gas stove could be exactly what you're looking for in our fireplace showroom in London. Here are all the reasons why gas stoves are a perfect choice for your home; along with a selection of the products we have available at Real Flame.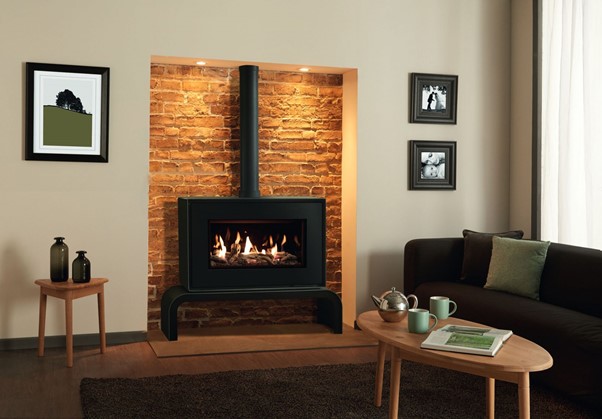 Benefits of Gas Stoves
Unlike wood or coal stoves, gas fires give you instant heat. You don't have to wait for flames to catch and spend time trying to coax the fire into providing you with the right amount of heat; gas fires can be switched on and start working in an instant, and can be adjusted by a switch or with a remote control to your desired temperature.
With a gas stove, there's no ash to clean up after each use or a dirty chimney that needs to be professionally cleaned. A gas fire requires by far the least amount of effort, simply turn it on when you want heat and flame then switch it off when you're done. All it requires is a top-up with fuel every now and again, and that's all that's needed to create those cosy nights in.
Gas fires are by far the most energy-efficient fire models, and they can help you reduce your energy and heating bills. Their effectiveness allows a room to heat very quickly and evenly rather than just around the fireplace itself, which is often the case with coal models.
A central heating boiler is usually rated around 15KW for energy consumption, but a gas fire can be rated as little as 3.5KW, or even just 1KW to heat an entire room. Modern gas fires can offer up to 90% fuel efficiency, helping you heat your home for less.
Gas fires don't require a chimney, and thus can be placed virtually anywhere, in any room against any wall, or even in the middle of the room if you like. There are no limits to where you can place your gas fire.
Thanks to their easy installation, gas fires come in a vast range of styles and aesthetics to suit any home, including traditional looking gas stoves. So you can still get that rustic, classic look without the need of a chimney with a gas stove.
Gas Stoves from Real Flame
At Real Flame, we offer both traditional and contemporary gas stoves, allowing you the flexibility to harmonise your fire with your home's décor. This provides you with an efficient heating solution, with the unmatched ambience of an authentic fire.
With a window allowing you to enjoy the glow of the flames and the warm tones of the coal of log effects, our beautifully crafted gas stoves can add the perfect touch to any room. Here's a look at a sample of the models we have available:
The Sheraton Gas Stove
The Sheraton Gas Stove marries the traditional aesthetic of the classic wood burner with the convenience of a gas fire. This beautiful model features a cast iron bevelling and cornicing to the door, top plate and base for a high-quality that can be admired even when not in use.
With high-efficiency gas flame technology and authentic display, the richly detailed logs and ceramic stones create the stunning burning embers to recreate the look of a real wood-burning fire. The fully-sequential thermostatic control system allows you to ignite the stove in seconds, and you can fully adjust the flame height with the touch of a button.
This stove is suitable for those with or without a chimney, letting you experience the traditional wood-burning experience with all the convenience of gas.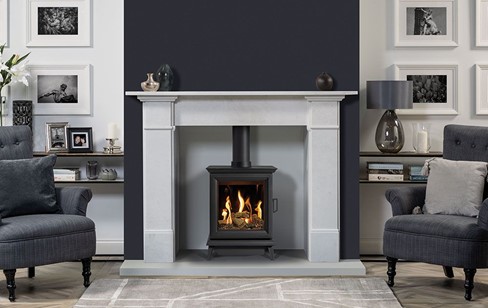 The Huntingdon 30 Gas Stove
The Huntingdon 30 Gas Stove combines a refined style with efficient heating. This stove is available in three fantastic enamel colours as well as matt black and matt ivory. With beautiful tracery windows, this stove frames the flames perfectly, giving great warmth and style to any home.
You can choose a realistic log fuel effect for a glowing ember bed feature for the truly authentic fire ambience. The stove has a manual control for ease and convenience and can be upgraded to a remote control.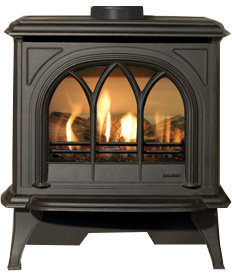 The Loft Gas Stove
The Loft Gas Stove is a more contemporary model of fireplace, with reflective black glass that adds a striking two-tone contrast to the matt steel body. The flames dance in the highly realistic fuel bed amongst the hand-painted logs.
This gas stove is available in either conventional or balanced flue models and outputs a generous 4.4KW that can be effortlessly controlled with handset options. It can be styled with a variety of accessories, able to be mounted on a styled plinth or base, with either option offered in matching steel or sandstone.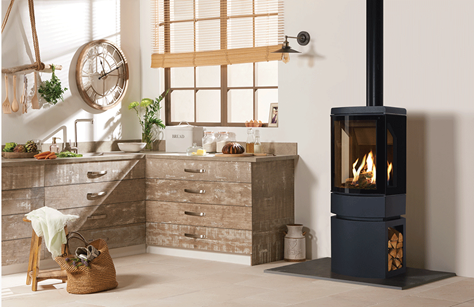 The Riva Vision Gas Stove
Another contemporary model, the Riva Vision Gas Stove features pure lines and stylish black glass surfaces, offering wood-fire ambience with modern styling. A highly realistic fuel bed and rolling flames, this stove provides 3.6KW of heat output at 84.3% efficiency, making it both stylish and practical. It can be controlled with a remote control for easy and convenient operation.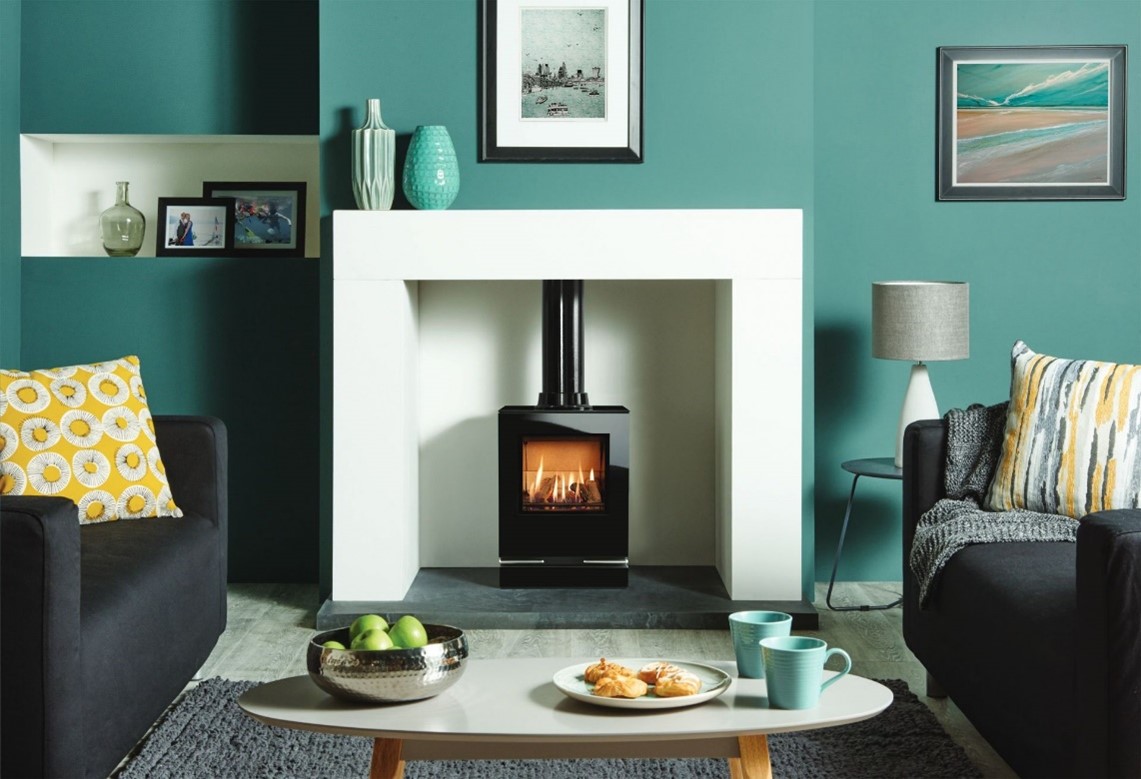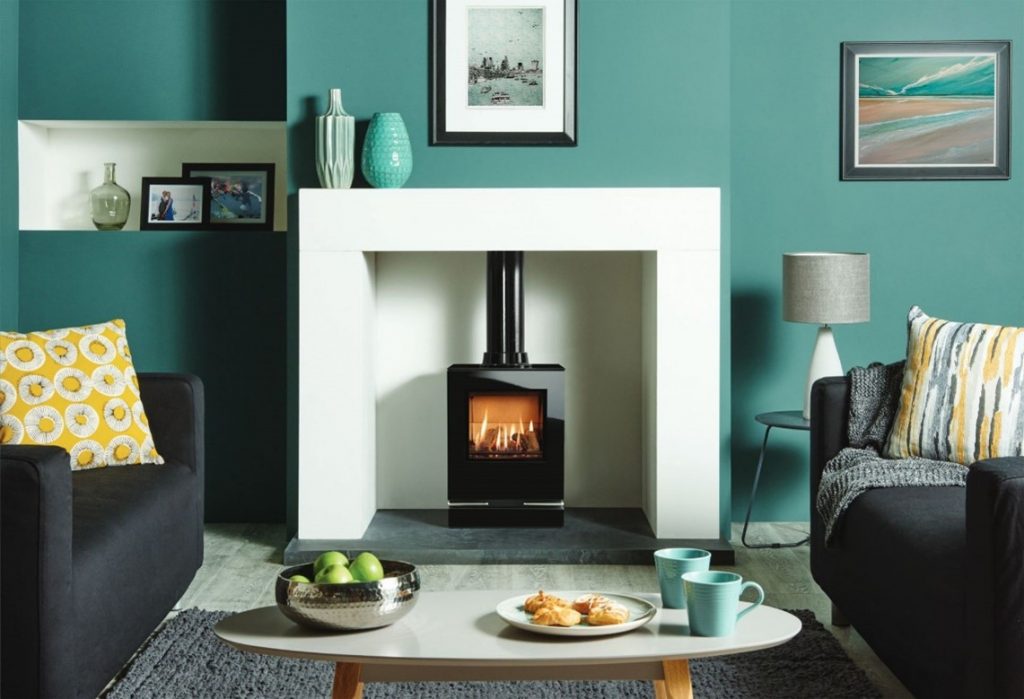 We hope you've enjoyed this article about all the ways a gas stove can help you beat those winter blues. If you're looking for gas stoves in London, contact Real Flame today, we can find the perfect fireplace in London for you.
Get in Touch with Real Flame for more Advice and Information